12. Don Maynard (Kingston, ON) - Maintaining Gravity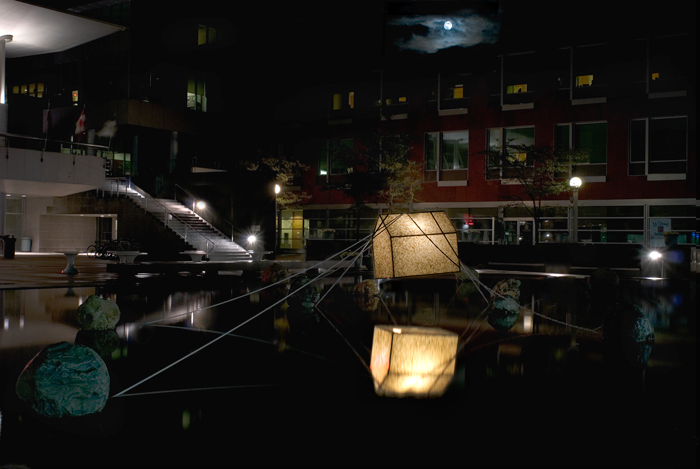 Don Maynard (Kingston, ON), Maintaining Gravity, 2009, mixed media, 2.75 x 3.50 x 2.00 m., Kitchener Civic Square. Photos: Isaac Applebaum.
Maintaining Gravity is an illuminated floating house that hovers above the fountain in Kitchener's Civic Square. The house is held down by guy-wire ropes, which keep it from floating away into the sky above. Maintaining Gravity alludes to those moments in life when things are full of light and filled with possibilities, moments when gravity seems an option and not a given. This work has been made possible in part with the support of Adams Landscaping.
Don Maynard's work frequently addresses political and environmental concerns, such as environmental degradation and its political ramifications and human rights issues. He often uses industrial materials and the detritus of the modern world to create works that address these issues, transforming the cast-off material of society into work that makes reference to nature and natural phenomena. Recent solo exhibitions of his work include "Tidal Mass," NGB Studios, Kingston, Ontario, 2007, and "Falling to Pieces," Canadian Clay and Glass Gallery, Waterloo, Ontario. His recent group exhibitions include Newzones Gallery, Calgary, Alberta, 2006 and "Paint on Metal," Tucson Museum of Art, Tucson, Arizona, USA, curated by Julie Sasse, 2005.