15. Mariele Neudecker (Bristol, UK) - Heaven the Sky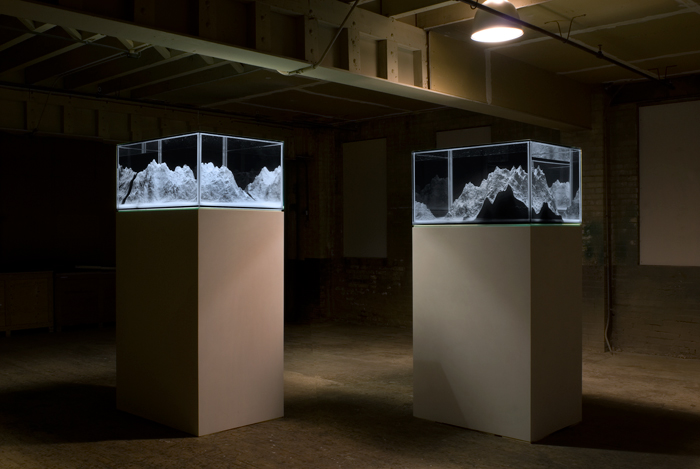 Mariele Neudecker (Bristol, UK), Heaven the Sky, 2008, glass, water, resin, plastic, enamel paint, salt, GAC100, 2.12 x 1.177 x .826 m.; 2.21 x 1.075 x .773 m., The Tannery, 121 Charles Street, Kitchener. Photo: Isaac Applebaum.
Heaven the Sky consists of two large aquariums housing miniaturized mountain ranges. Chemicals added to the water cause snow to form on the peaks and fog to develop around the base of the mountains throughout the exhibition. Internationally recognized for her atmospheric reproductions of landscapes within glass vitrines, Mariele Neudecker uses sculpture, film and photography to create a tension between historical/cultural representations of the sublime landscape and our perception, imagination and memory of real experience.
A native of Düsseldorf, Germany, Neudecker has lived and worked in the United Kingdom since 1985. Neudecker recently had a solo exhibition of her work entitled This Thing Called Darkness at the Arts Towada, Towada, Japan (2009). Recent group exhibitions featuring her work include Trying To Cope With Things That Aren't Human (Part One), curated by Ian Brown, David Cunningham Projects, San Francisco, US (2009).