CAFKA.14
It Should Always Be This Way
10. Robert Hengeveld (Toronto), Ssspun
Waterloo Park - Along train tracks near petting zoo., 50 Young Street West, Waterloo, ON N2L 2Z4.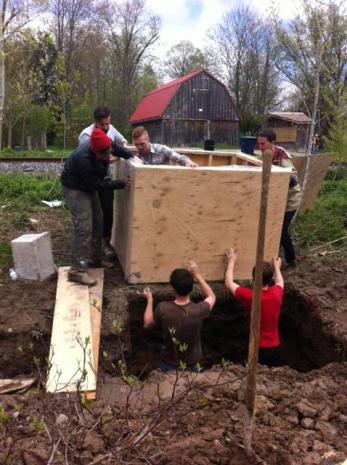 Robert Hengeveld's Ssspun is a kinetic, rotating deciduous tree in installed in Waterloo Park.
Robert Hengeveld is an artist whose work explores the boundaries between reality and fiction, and where we find ourselves within that relationship. He completed his MFA at the University of Victoria in 2005 and studied the Ontario College of Art and Design.  He is currently Artist-in-Residence at the University of Guelph in the School of Environmental Science. His work has been exhibited across Canada and internationally.  Past and upcoming exhibitions include The Power Plant (Toronto), Hallwalls Contemporary (Buffalo), MacDonald Stewart (Guelph), EyeLevel Gallery (Halifax), Mercer Union (Toronto), and Mulherin Pollard (NYC).