CAFKA.21
Everything Not Saved Will Be Lost
Shary Boyle (Toronto): White Elephant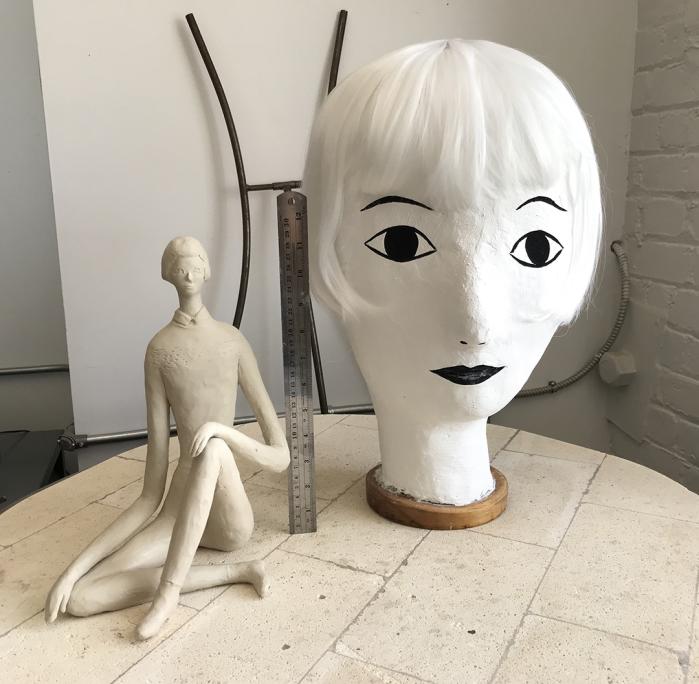 CAFKA is proud to present the work of Shary Boyle, one of the most important Canadian artists of the past 25 years. Her explorations of human psychology in sculpture, painting, installation and drawing have been acclaimed across Canada and abroad. People in the Waterloo Region are familiar with Shary Boyle's work from her shadow play performance with Christine Fellows during the 2014 edition of the Open Ears Festival of Music and Sound. In 2017 the Kitchener-Waterloo Art Gallery acquired her porcelain and terra cotta sculpture "Looney Tunes."
For CAFKA.21 Shary Boyle is creating "White Elephant," a 9-foot tall, seated figure with a head that will electro-mechanically rotate at irregular intervals. This gigantic figure will be constructed with structural steel and shaped with foam, dressed in a custom hand-knitted sweater, bespoke trousers, sourced dress shoes and wig -- all in white. The hands and face will be rendered in porcelain. The sculpture will be exhibited in a to be determined location, with its head enigmatically turning 360 degrees at irregular intervals. The work is inspired by the artist's investigation into the historical moment of racial recognition in Canadian (and world) culture, in particular, Canada's grappling with its white supremacist/colonial settler history and our currently evolving comprehension of what it means to be "white." CAFKA will animate the work through the development of reading lists, discussion groups and public presentations.
About the artist
Shary Boyle graduated from the Ontario College of Art and Design 1994. Over the past 25 years she has exhibited her sculpture, painting, installation and drawing widely across Canada. In 2016 she exhibited in Ceramix: Ceramics and art from Rodin to Schutte, organized by the Bonnefantenmuseum in the Netherlands and travelling to La Maison Rouge in Paris, and Cite de la ceramique in Sevres, France. In 2017, Boyle co-curated and participated in the Esker Foundation-produced touring exhibition Earthlings. Her sculptures were featured in South Korea's Gyeonggi International Ceramic Biennale, and in the Phaidon publication Vitamin C: Clay and Ceramic in Contemporary Art. Shary Boyle is a recipient of the Hnatyshyn Foundation Award and the Gershon Iskowitz Prize. Shary Boyle's work has been part of the National Gallery of Canada's last three editions of the Canadian Biennial. In 2013 she represented Canada at the 55th Venice Biennale with her project Music for Silence. Shary Boyle's public art commission Cracked Wheat was installed August 2018 on the front grounds of the Gardiner Museum in Toronto.
Shary Boyle's White Elephant has been made possible by the generous support of the Region of Waterloo Arts Fund and the Good Foundation.