Pavel Acosta & Yuneikys Villalonga - Amusement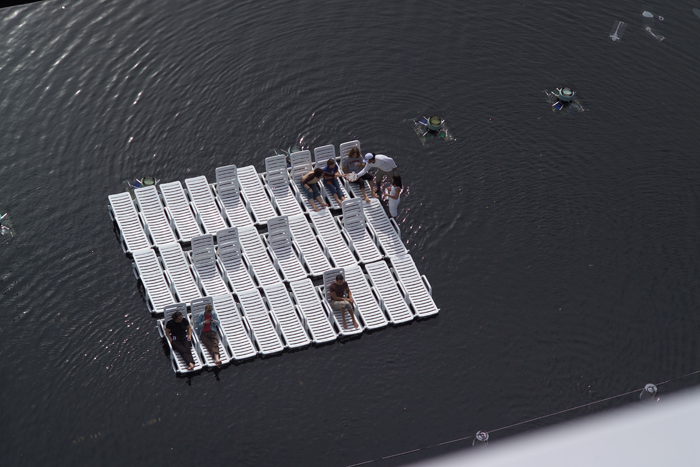 The installation/performance Amusement consists of an all inclusive beach environment with thirty sun chairs and a number of inflatable objects floating in the water of the pond in front of City Hall. The water jets will alternate their pressure, moving the objects, and creating the sensation of being in an amusement centre; the visitors will use the sun chairs in and around the pool to 'relax and enjoy art'. With daily performances, the artists will invite the public to take a break, lay down, use the sun chairs and offer drinks for refreshment.
Pavel Acosta holds a Visual Arts degree of the Higher Institute of Arts, Havana, Cuba and has participated in several group shows in Cuba and abroad. Recent solo shows took place at the Faculty of Arts and Letters, Havana, the Center for the Development of the Visual Arts, Havana, Cuba and the GalerÌa de la Casa de Cultura de Plaza. Havana, Cuba. He has won several awards in art salons and a scholarship to realize studies at the School of Fine Arts of Paris, France. 
Yuneikys Villalonga studied Art History at the Havana University, Cuba. After working for three years as a curator at the Ludwig Foundation of Cuba, and teaching Contemporary Caribbean Art at the Higher Institute of Art, she is working as an independent curator. She has received several scholarships to do research in France, Germany, Switzerland, Denmark, Sweden and England.