Ivan Jurakic - Passages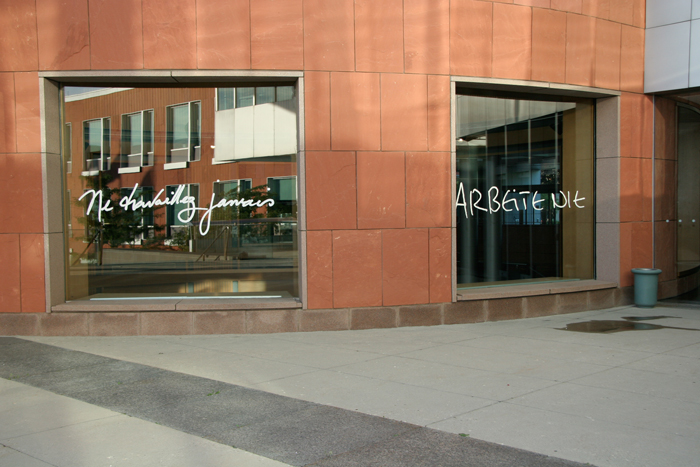 Passages appropriates a piece of proto-Situationist French graffiti, Ne Travaillez Jamais, which translates as a contrarian declaration to never work. This single line is translated into a dozen languages, produced in vinyl, then layered and re-layered onto the windows of Kitchener City Hall, transforming the slogan from pure ideology into plurality. The piece is a vehicle for conversation, an awkward gesture that seeks to encourage public discussion between people from differing cultural backgrounds. The physical passage from one place to another is paralleled by the textual passages from one language to another.
Ivan Jurakic is a visual artist, writer and curator. He has exhibited in artist-run spaces, public galleries and off-site venues across Ontario and the north-eastern United States. Recent exhibitions and projects include: Ice Follies for the WKP Kennedy Art Gallery, North Bay; Future Cities for the Art Gallery of Hamilton; Reclamation at Big Orbit Gallery, Buffalo, NY; Open at the Arcadia University Art Gallery, Philadelphia, PA; and The Release at the Royal Botanical Gardens, Hamilton. He has an Honours BA from the University of Guelph, an MFA from the State University of New York at Buffalo and is based in Hamilton, Ontario.