Thomas Begin - Being Above You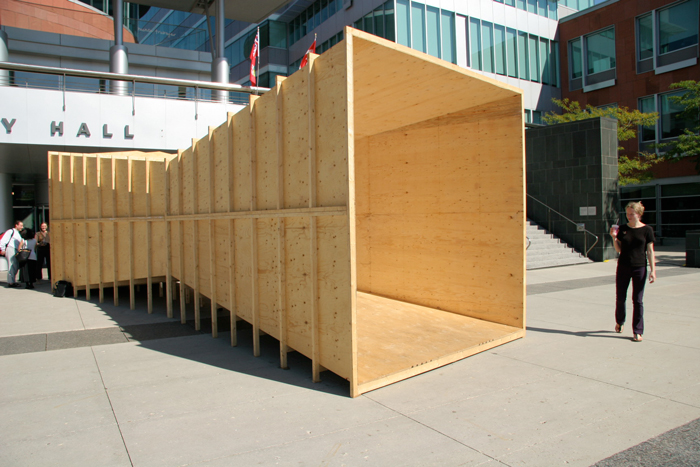 A sort of park pavilion, Being Above You is a site-specific architectural modular installation that modifies the existing architecture of a given space in order to alter the spaces function. With controlled sound and lighting, the work comprises a series of modular rooms that link to each other in various configurations that offers the viewer an alternative to traditional access to the space.
Begin creates and modifies spaces as a way of altering the function of existing urban spaces. His installations offer his visitors alternative light, sound, and space conditions that subvert the monotonous mechanisms of standardization inherent to conventional architectural environments. Born in 1975, he received his BFA from Concordia University. Recent solo exhibitions include Galerie Dare-Dare (Montreal), and Galerie Licart . . . lieu d'art actuel (Rouyn-Noranda, Quebec). As well, he participated in group exhibitions at Western Front (Vancouver), Centre des arts actuels SKOL (Montreal), the Maison de la culture Notre-Dame-de-Grace (Montreal), and in Video Verite at the ATA Center for Contemporary Art (Sofia, Bulgaria).