Mark Laliberte - Overnight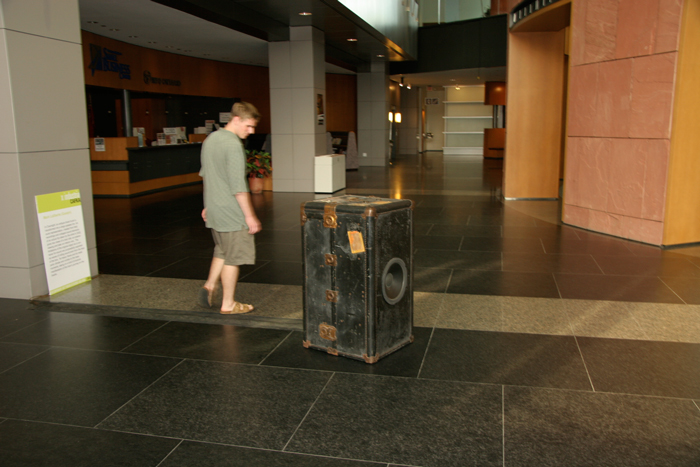 In Overnight an antique travel trunk is transformed into a large speaker bin. An aural representation, created from field recordings and collaged sound elements of an actual trip taken by the artist in 2002, gives two views of a train ride: an exterior viewing and later an interior one. The limitations of the original object as a container for sound are purposefully exploited as waves of rolling sound emit from the face of the box. Its heavy frame and its metal parts vibrate and rumble to the bass moments, taking on a kind of physical manifestation of the train's journey on the tracks.
Mark Laliberte is a project-based hybrid media artist currently working in collage, curation, video, animation, language, and computer-based sound composition. Laliberte's gallery works have been shown throughout Canada and the USA; he has won several awards including numerous grants from the Ontario Arts Council, and an Ontario Graduate Scholarship. He has released three CDs of audio art, and has performed at prestigious festivals such as Mutek and the Vancouver New Music Festival. He is a founding member of Thinkbox, a new media collective with exhibitions at The Art Gallery of Windsor (2006) and the Thames Art Gallery (2007). He recently received an MFA from the University of Guelph.